PATTERN SHOP
WPE has both a wood and a metal division in addition to a CAD department. From a hand sketch to solid modeling, pattern tooling is constructed from wood, plastic, or metal.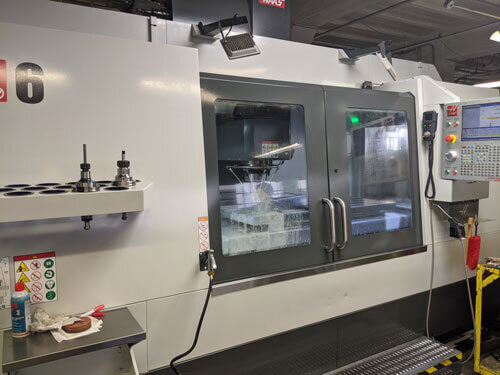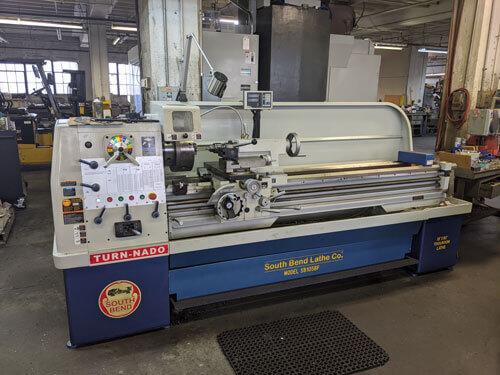 ---
Metal Shop:
Mazak Nexus 510C-II Vertical CNC mill 41" x 20" x 20" Travel, 21" x 52" Table
Milltronics RH30 Vertical CNC mill 60" x 30" x 28" Travel, 24" x 67" Table
Fryer VB-100 Vertical CNC mill 100" x 35" x 32" Travel, 30" x 112" Table
Haas VF6 Vertical CNC mill 64" x 32" x 30" Travel, 28" x 64" Table
Rambaudi 600 2-Spindle with Fidia CNC control. 49½" x 23½" Travel, 20" x 114" Table
6-Bridgeport Mills
2-Greaves-Cincinnati Model 4 Horizontal Mills 36" x 12" x 18" Travel
South Bend SB1058F 18" x 80" Turnado Lathe
Jet GH-1640ZX 16" Large bore lathe
LeBlond 18" Lathe
Northtech 28" Vertical bandsaw 26½" Throat
Powermatic 20" Vertical Bandsaw 19¼" Throat
Wells horizontal bandsaw
Brown + Sharp #2 Grinder
6-Pedestal Grinders + Polishes
20 Ton Hydraulic Press
Greenerd #3 Arbor Press
Milwaukee Chop Saw
Milwaukee Mag drill
Master 24" disc Sander
Miller Dynasty 300DX Tig Welder
---
Wood Shop:
American 36? Vertical bandsaw 26¾" Throat
Delta 14? Vertical bandsaw 13½" Throat
Master 24? Disc Sander
Walker Turner radial drill press
Yates American thickness planer
Oliver Jointer planer
Master Spindle sander
FZ Zimmerman belt sander
FZ Zimmerman FZ-0 + FZ-1 Routers
South Bend 16? Lathe
South Bend 14½" Lathe
Craftsman 100 Table saw
---
CAD DEPARTMENT
The CAD department has the ability to import 3D customer models or translate a blueprint or sketch into a 3D model. Using Pro/Engineer and Mastercam, they can use these models to quickly build accurate tooling with any of the 4 CNC mills connected to the shop network or provide the wood or metal shop with the information required to build tooling.
Software & Equipment:
FTP server for large CAD file transfers.
HP Designjet 500PS Plotter for full-sized blueprints and photos
10/100kbps ethernet network spanning the entire shop and all CNC machines
Pro/Engineer, 4 seats
Mastercam, 8 seats
Windows 7 Pro CAD/CAM workstation (5)
Windows Server for file backup and storage
Faro Quantum S 3D Scanning Arm
Altair Inspire Cast – Casting Solidification Software
---
FOR ENGINEERING, TOOLING, CASTING, HEAT TREATING AND MACHINING NEEDS